Tim's Little Mansion
308 Seventh Street West
Roundup, Montana
e-mail to: timslittlemansion@hotmail.com
If you're passing through Roundup, Montana, you might want to stop by and take pictures of this home.
This is one home you will never forget.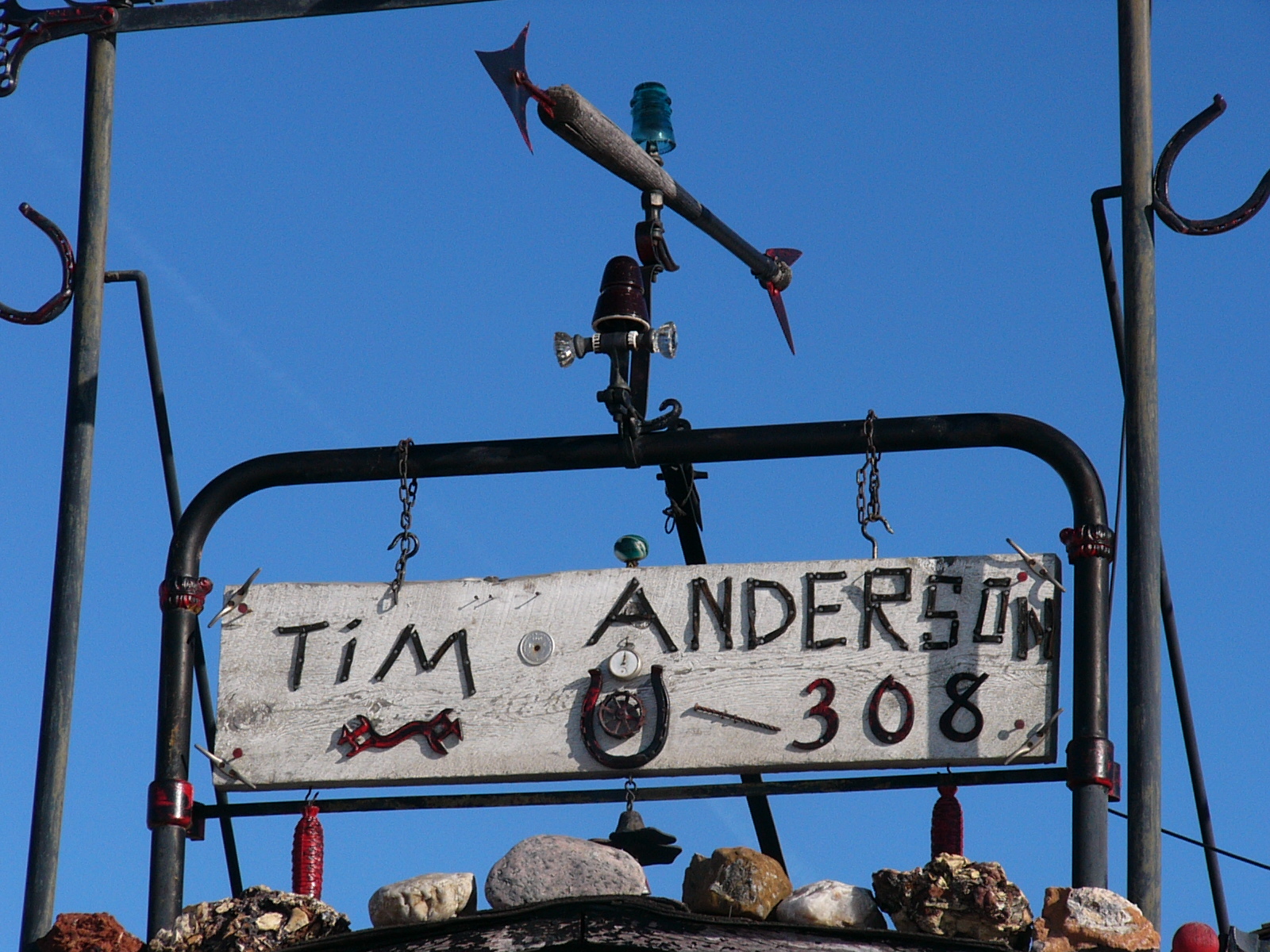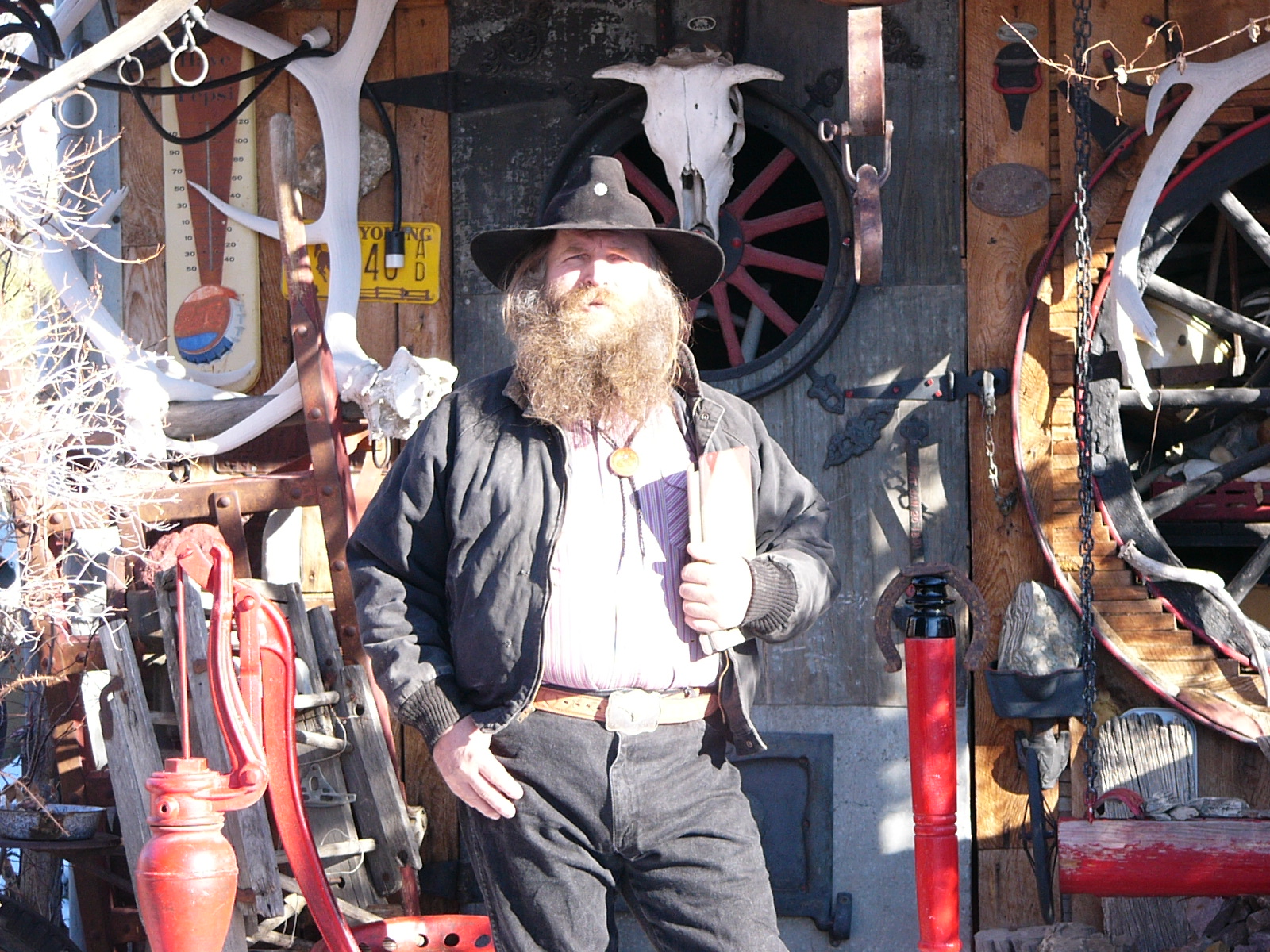 This is Tim Anderson. Artist and Sculpture from Roundup, Montana.
I met Tim Anderson one afternoon in February. I had stopped into the Roundup Trading Post to say hello to the owner Carla. Tim was in saying hello as he always has and Carla introduced us. Tim asked if I knew about his house and I told him yes I had been by it several times admiring the many sculptures. Tim asked me what line of business I was in and when I replied he asked if I could make him a web page about his home. I agreed to help him and so here it is, Tim Andersons Little Mansion.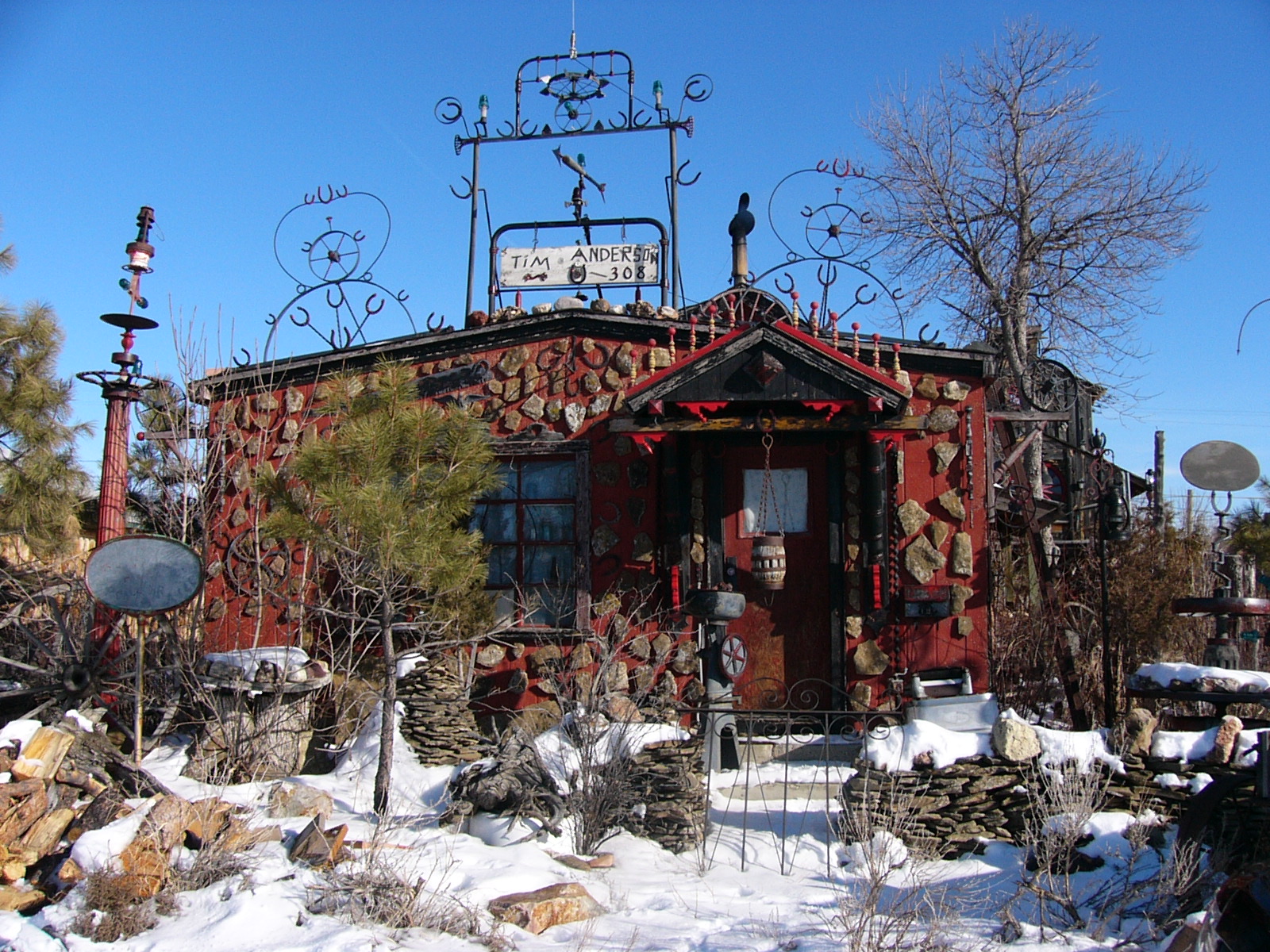 Tim is a mild mannered man from Montana. He doesnt say much and he doesnt seem like the type of person that could have much of an imagination by just meeting him for the first time. But Tim Anderson is filled with ideas. His life is filled with objects and art. Tim's home is made from old relects and farming materials from ranchers that have donated objects and objects Tim has bought from around Roundup.
Tim has over 100 home made sculptures on his small lot which is sandwiched in between a mobile home and a log home. His neighbors don't quite understand Tim's Art but they think it's awsome. Once you see these pictures of Tim's Little Mansion in Montana, you will want to see it for yourself.
The Store Front
(3 story hand made shed)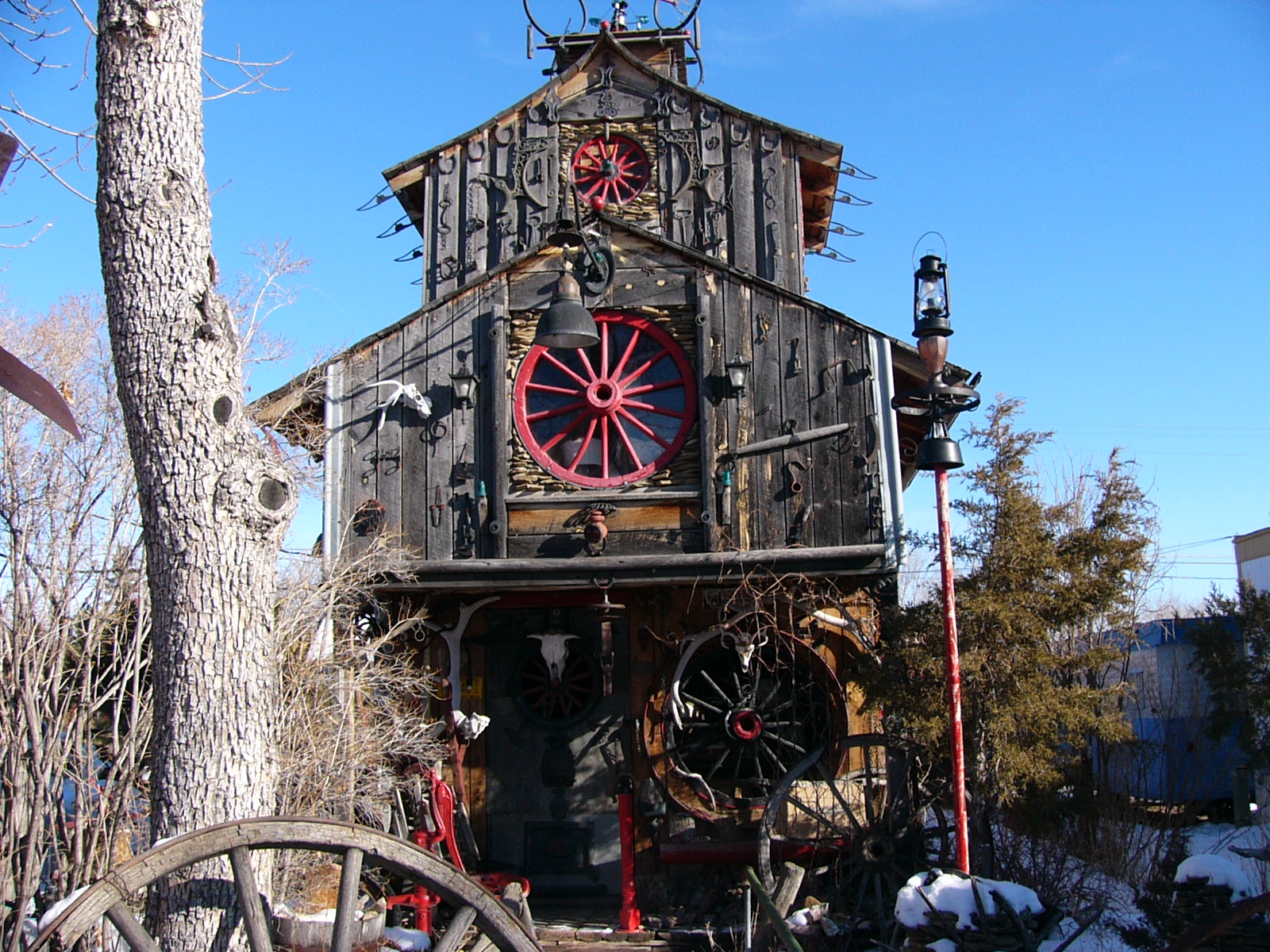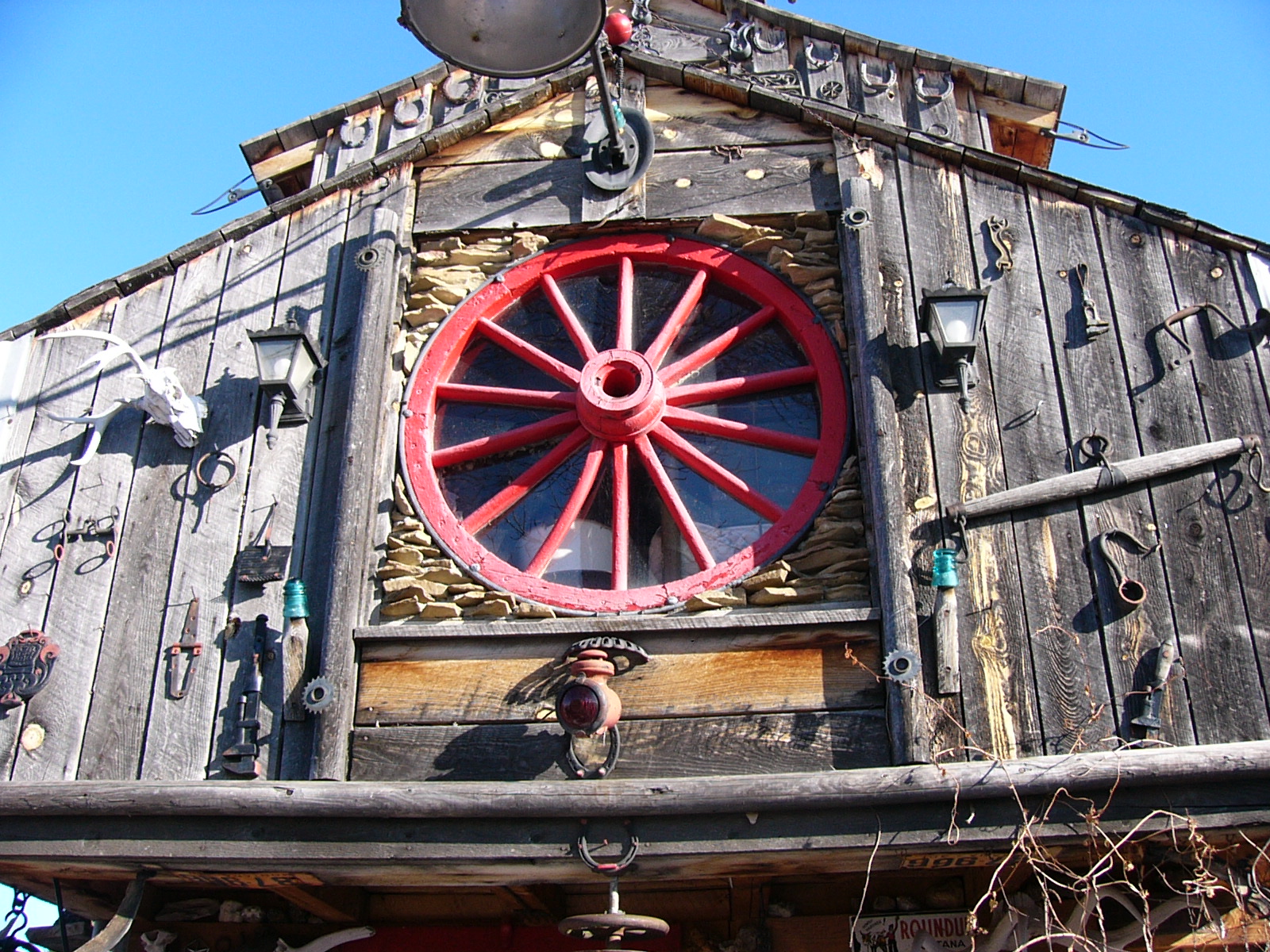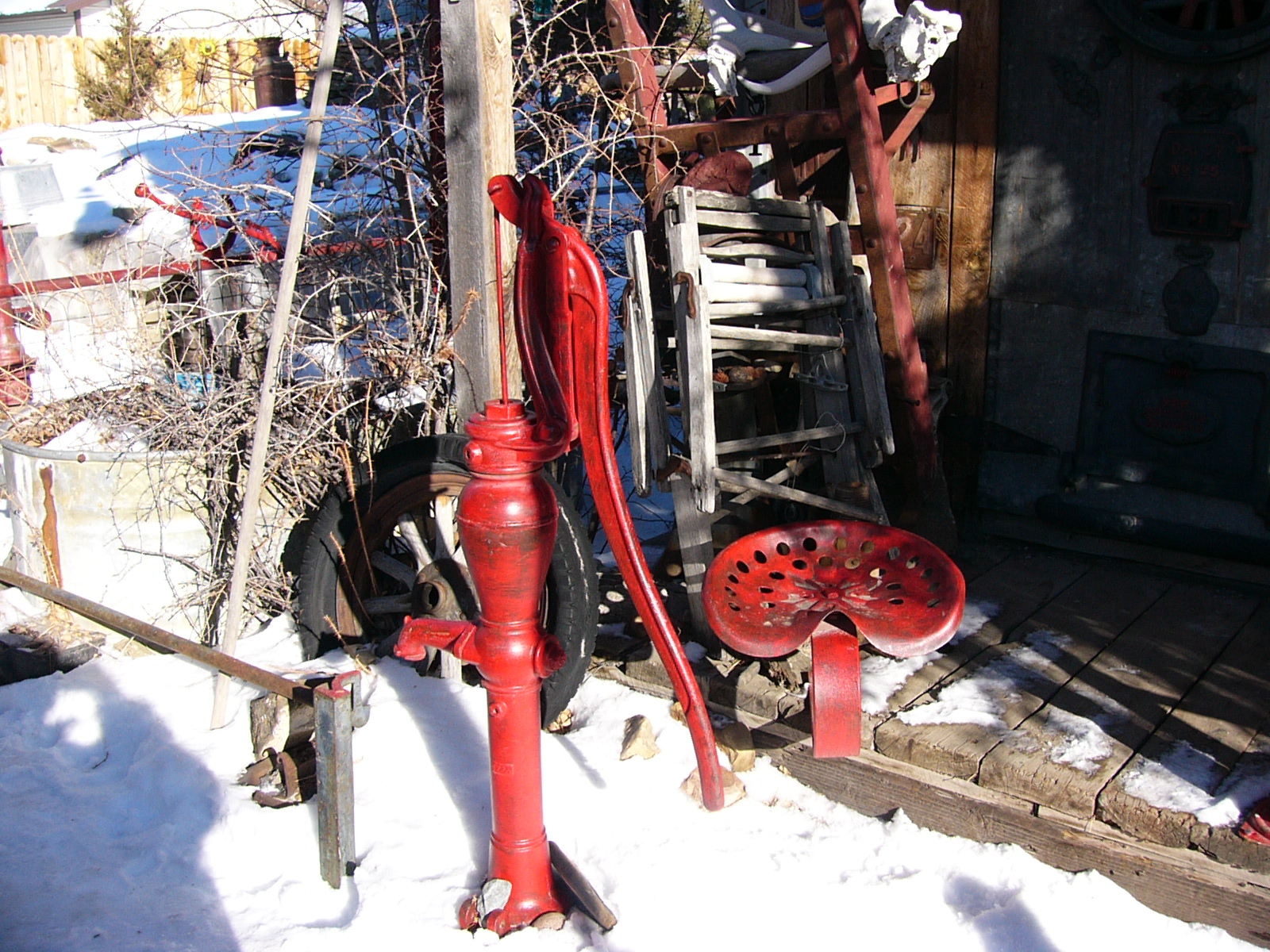 Wagon Wheel Windows Hand made by Tim ...........Porch swing and deck decor by Tim.............Hand pump and seat placed on porch by Tim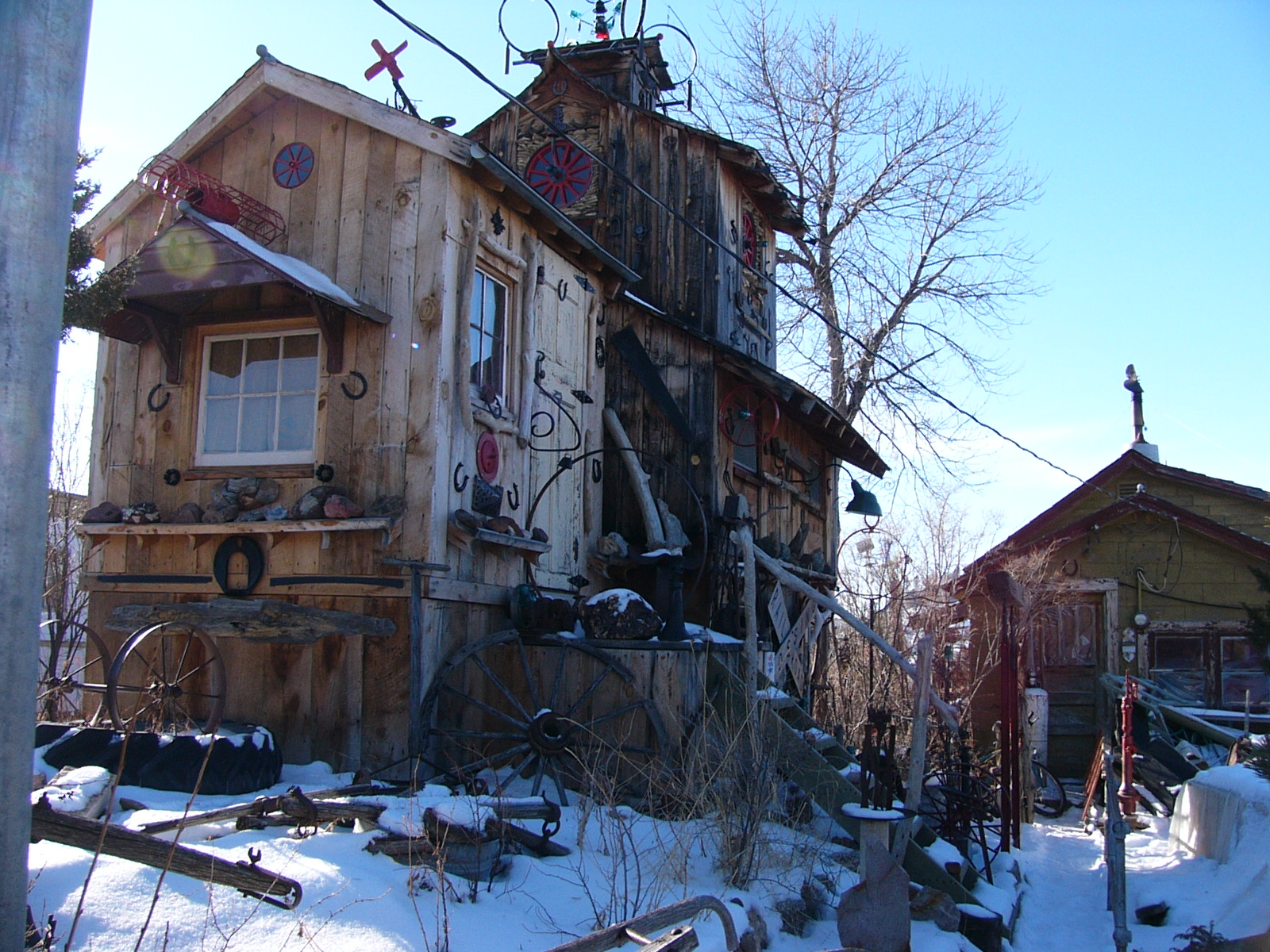 Side views of "The Store" gives you an idea of how much work Tim has put into his mini - town.
Every object carefully placed adds to the Art design.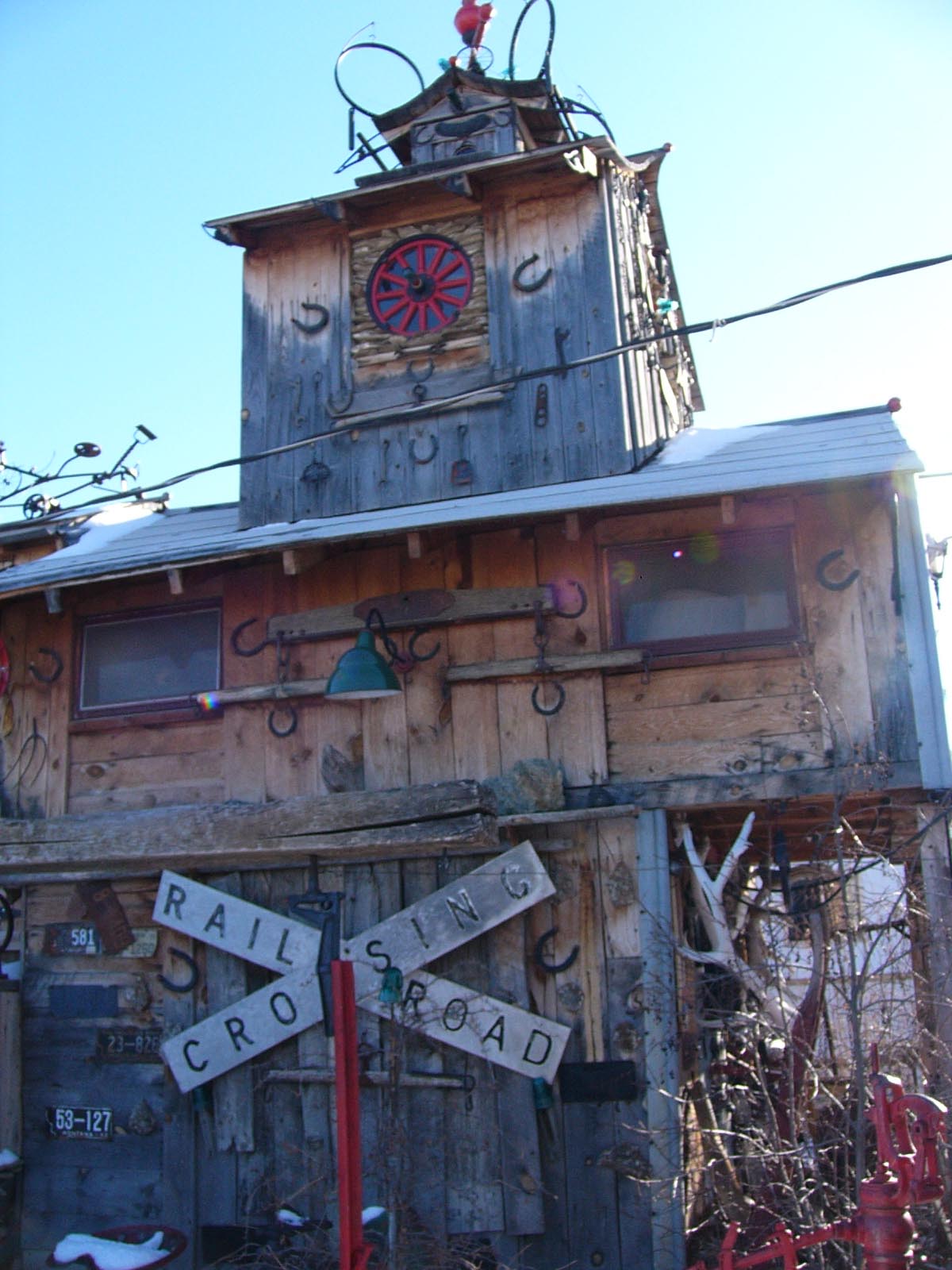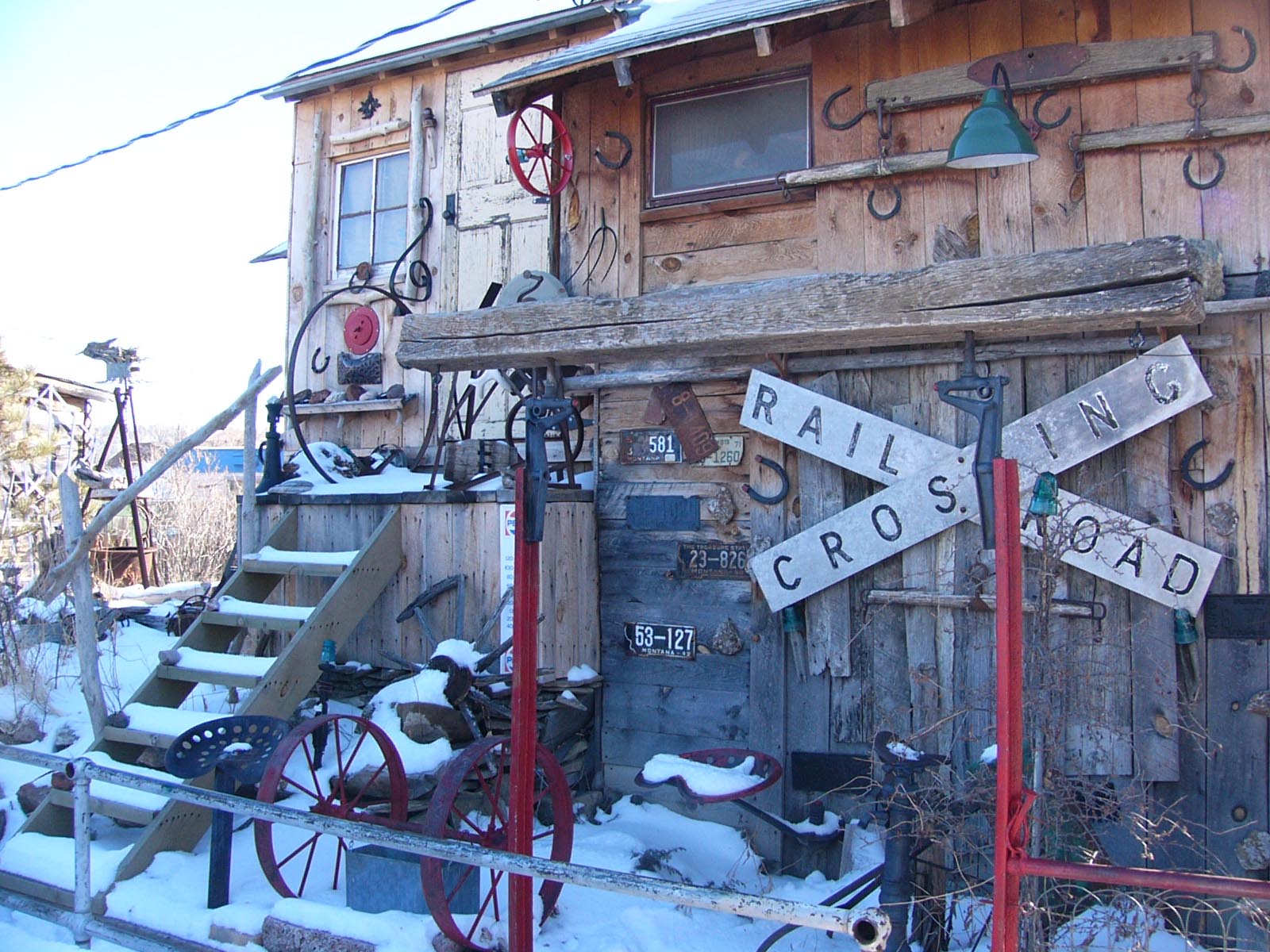 This is a picture of "The Store" as Tim calls it. Tim's Three Story Shed. Tim built this shed by hand. The windows you see are made out of wagon wheels and Tim cut the glass himself. All the sculptures that are on, in and around Tim's house were welded by hand by Tim himself. Tim let his imagination flow and as you can see there is more to this if you look very close. From the exterior walls of the Shed, Tim has attached many old time tools and skulls from elk, deer and horses. Tim found most or was given most of the items you see. No animals were sacrificed in the making of Tim's property. All the animals died of natural causes. This 3 story Shed is not finished according to Tim. He says he plans on adding on to his house and in the future the two will be connected in an "L" shaped form. Tim has a lot of construction he plans on finishing in the future to try and make his home more user friendly. He wants any passers by to stop and feel free to take pictures from the front of the house or the rear alleyway. He is unable to let people roam freely on the property due to insurance purposes. But you will want to see as much as you can when you come by. So bring lots of film for your camera.
You might even catch Tim outside busy working on some project and he would be happy to pose and smile for you.
The Bar Building
6
This is one of the many little out buildings on Tim's property. It is what he likes to call The bar. He is going to make this little building into a small bar. He is trying to slowly produce a small little town inside a small town on his property. Tim utilizes everything that he finds or is given. Tim says this little bar has the Tailgate from an old army truck as a sign on the top and it once read The Rainbow Bar. A bar that used to be open in Roundup. Tim says he hasnt finished this building either but he plans on it being finished by next year. If you look around the site here you can see odds and ends laying about... I am wondering what new sculpture Tim will make from it all. I even saw a wringer type maytag washer sitting there. I am truely amazed by the detail of Tim's work.
The Room Underground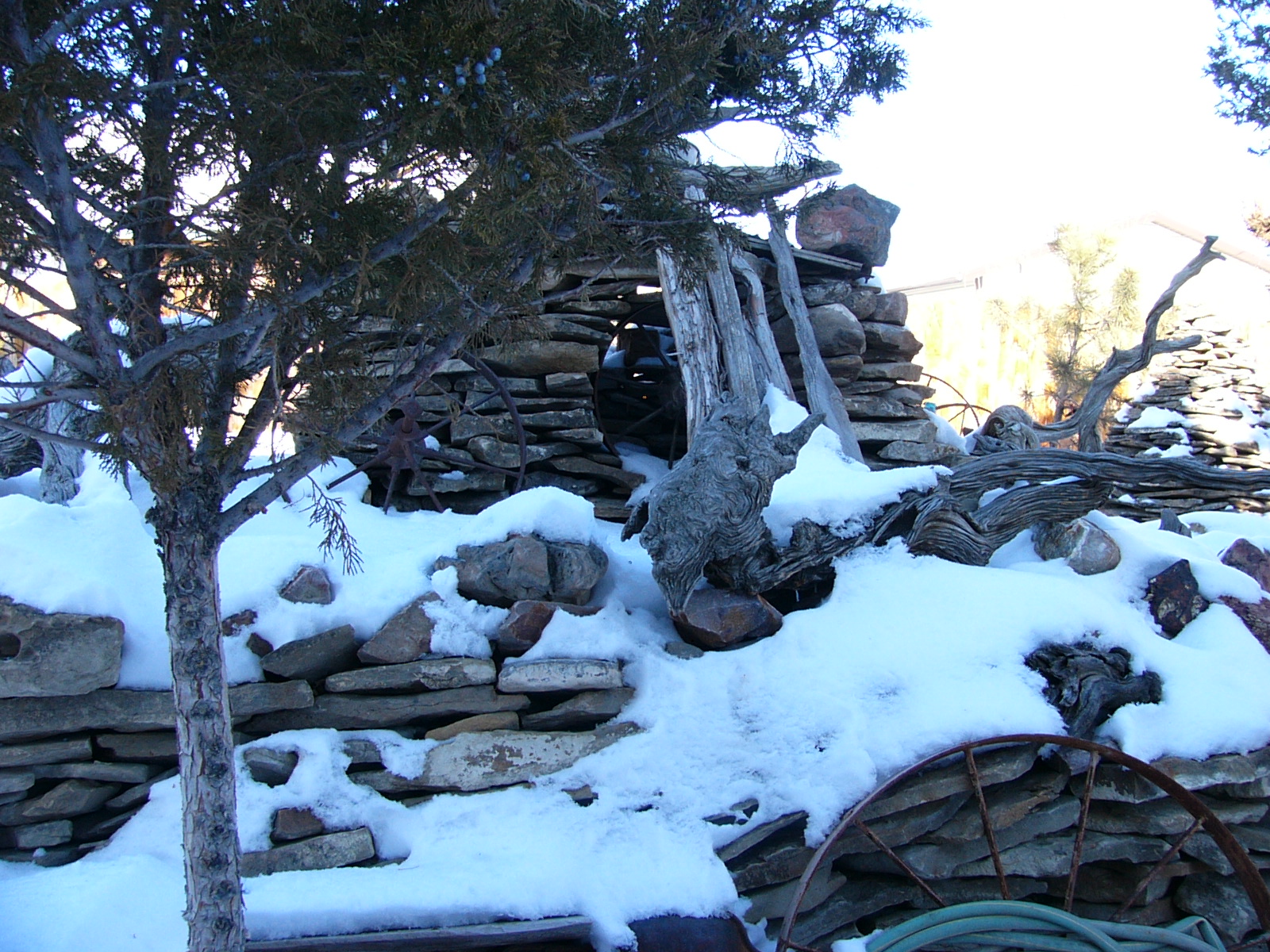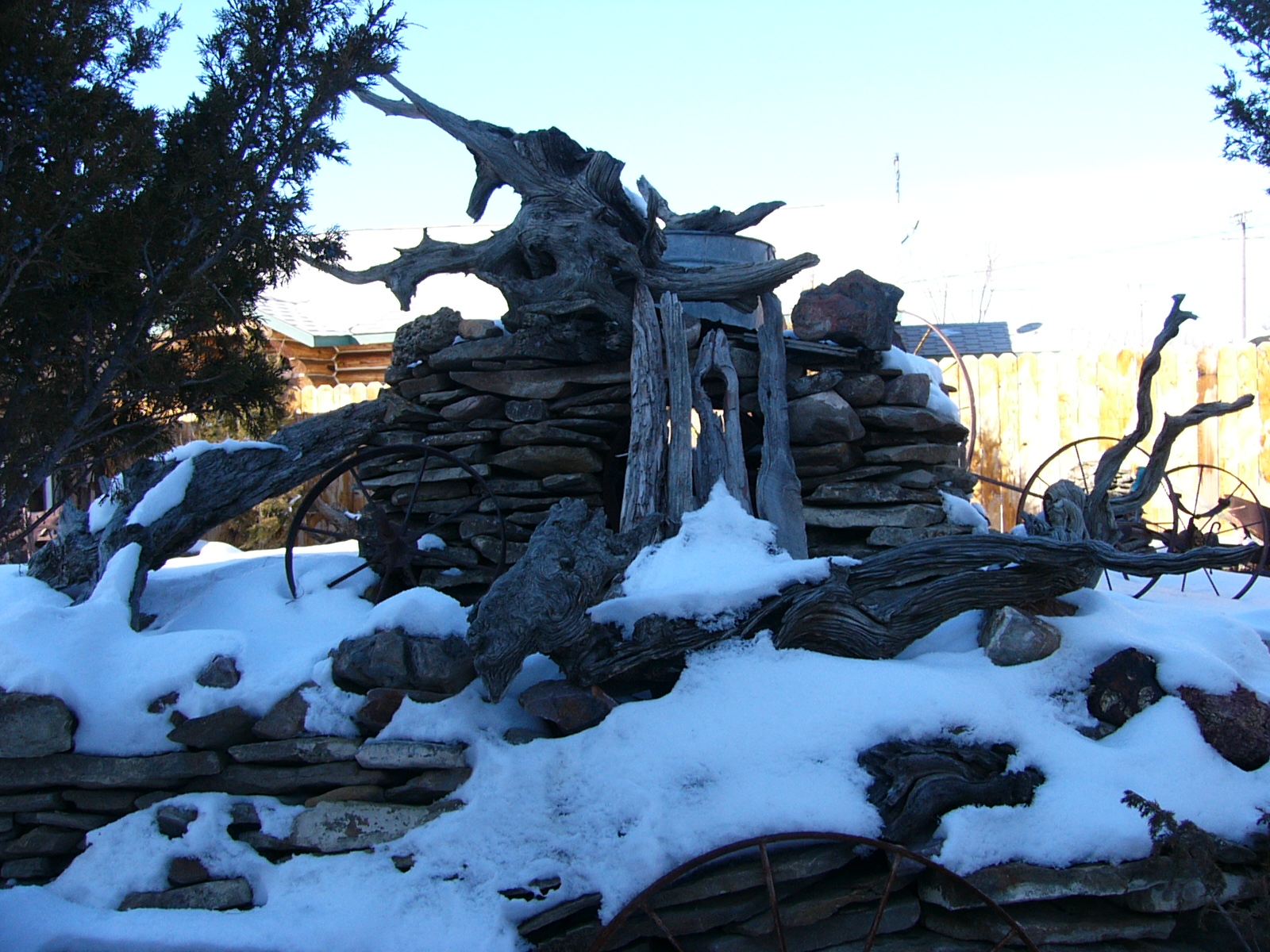 Tim suprised me by telling me that under this pile of hand laid flat rocks is a secret room. An underground room. "It is great for laying in during the summer to keep out of the heat and I am even putting in a bed for nap time," claims Tim. I cant wait for spring so I can go in and take a look. Tim has other little suprises that just kept me in awe the whole time I was walking through with him.
The Ladies Shack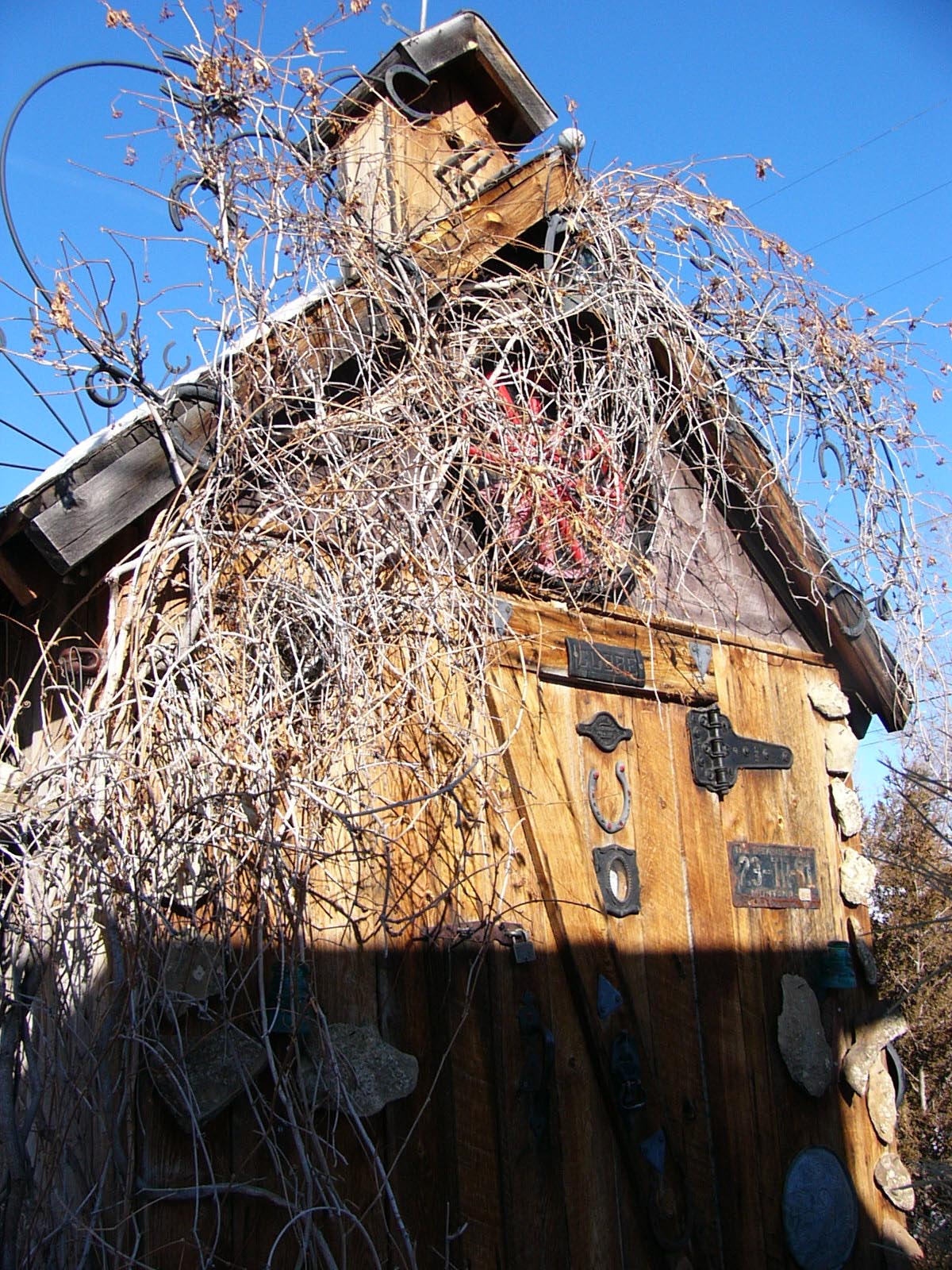 One of Tim's friends told him that this shed was to be called "The Ladies Shack". He didnt really specify why it came about but he figured since that is the name she gave it, he would keep it that way. This one room shack has vines growing in front and a wagon wheel window, a trademark of Tims'. Tim enjoys making windows from wagon wheels. He said he really likes that rustic look and it gives a house a look that reminds him of the old ranches of Montana. Tim places horseshoes on every building to give his feature a bit of good luck from the old west.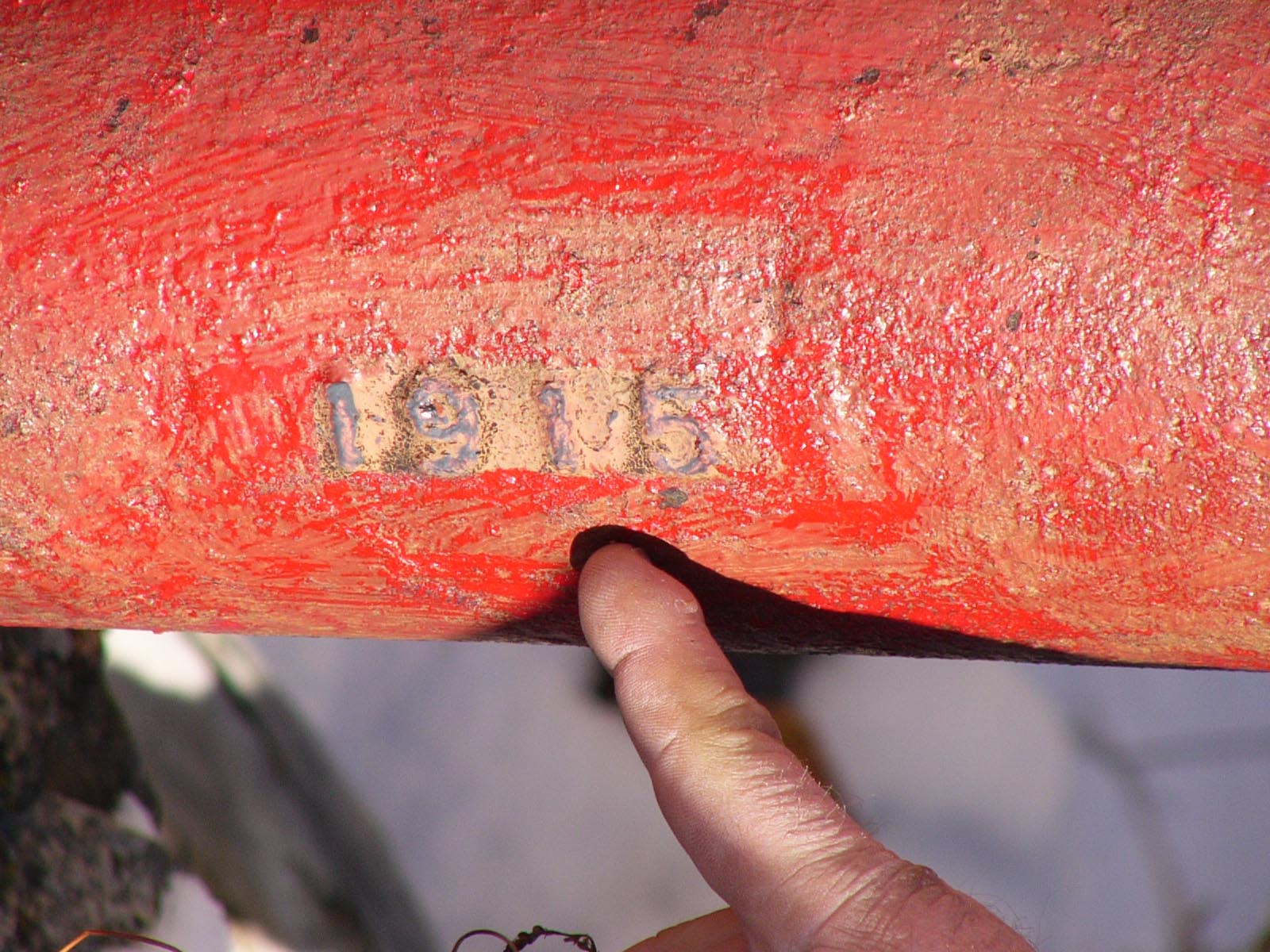 Tim points out the date on one of his sculptures. "This date says 1915," Tim says proudly. This sculpture is made from steel and wagon wheels and near the top is an old weigh scale. Tim has a great time building and welding. He uses flat rock and different types of objects to blend into his many many sculptures.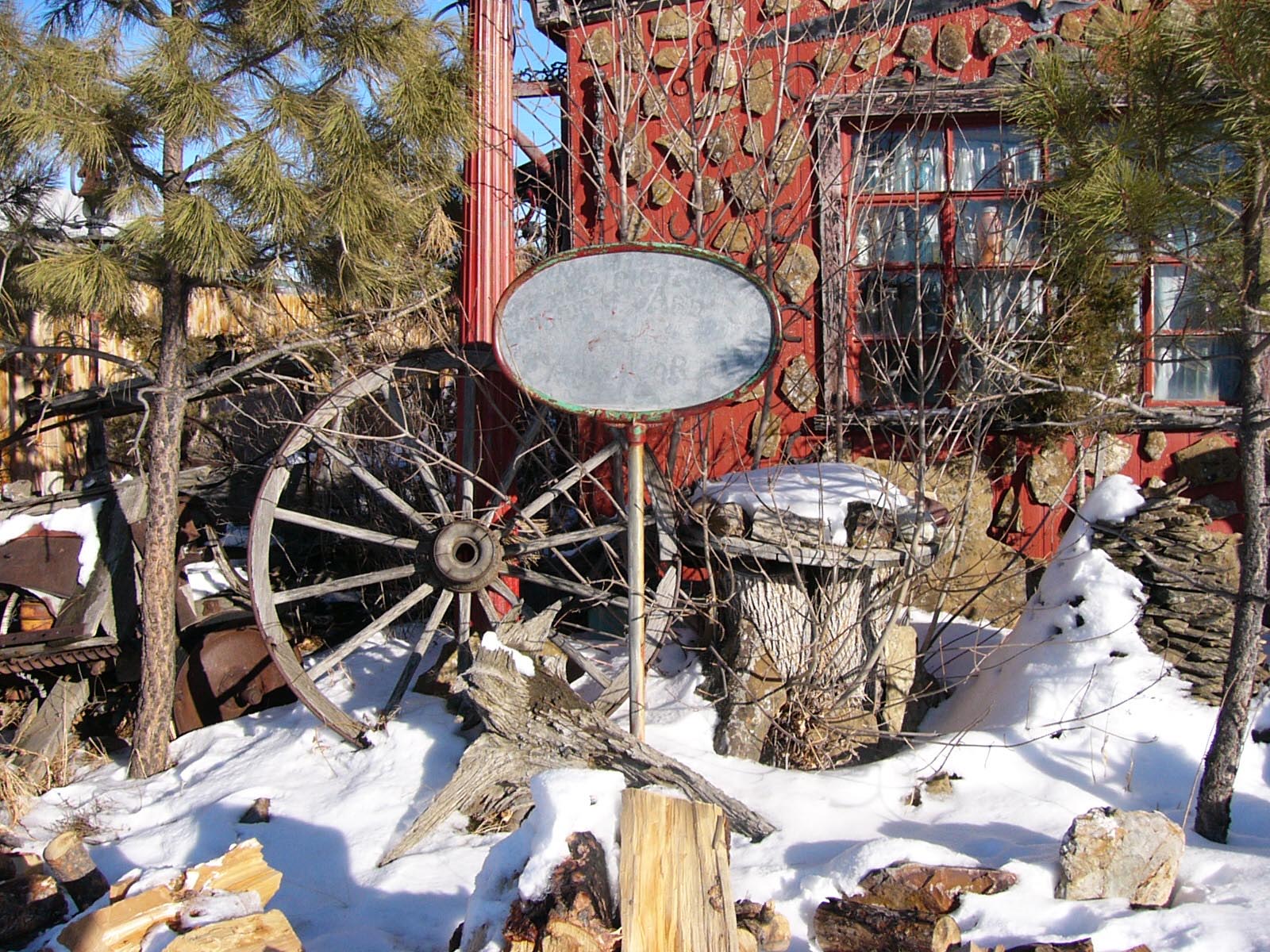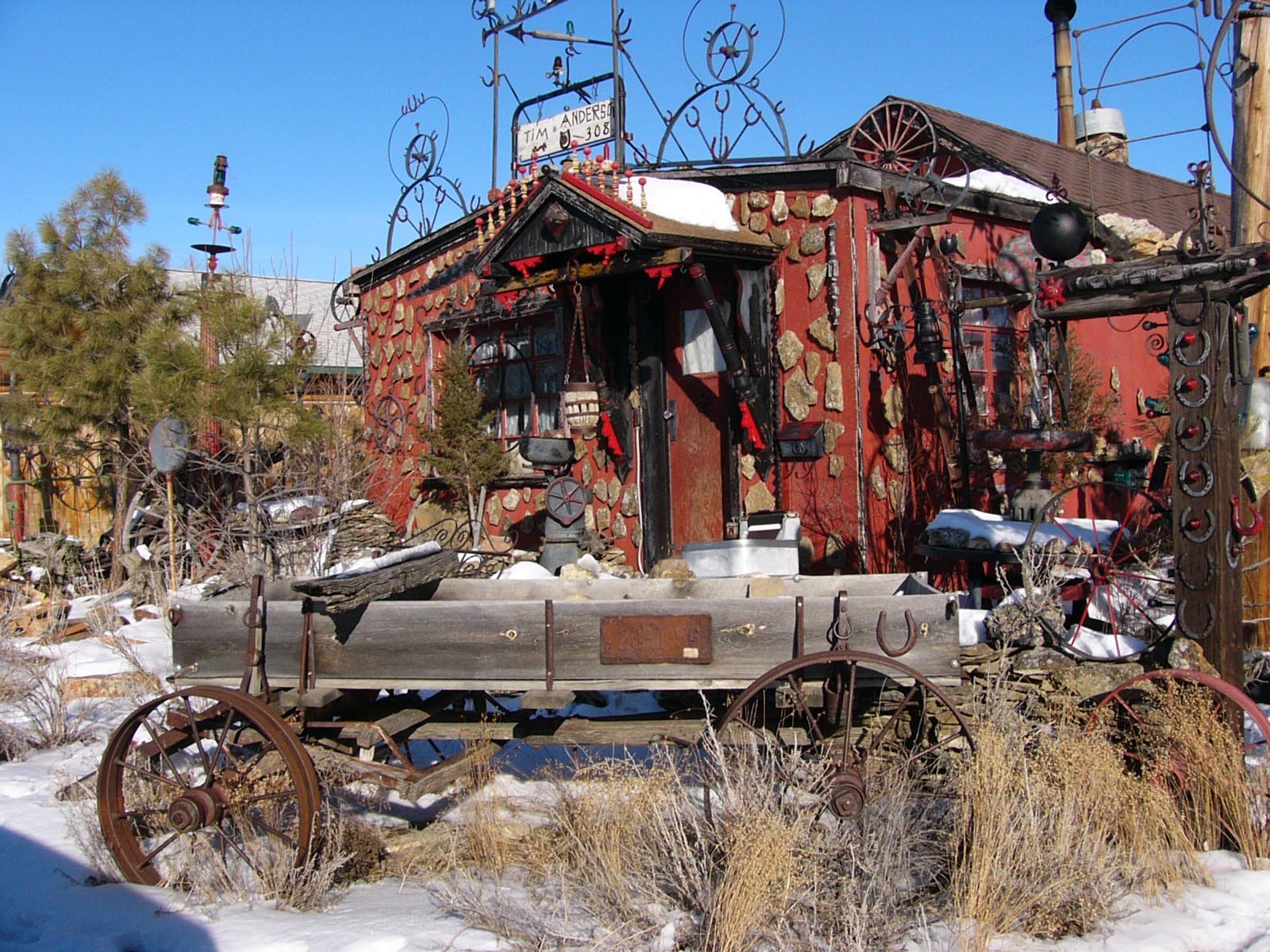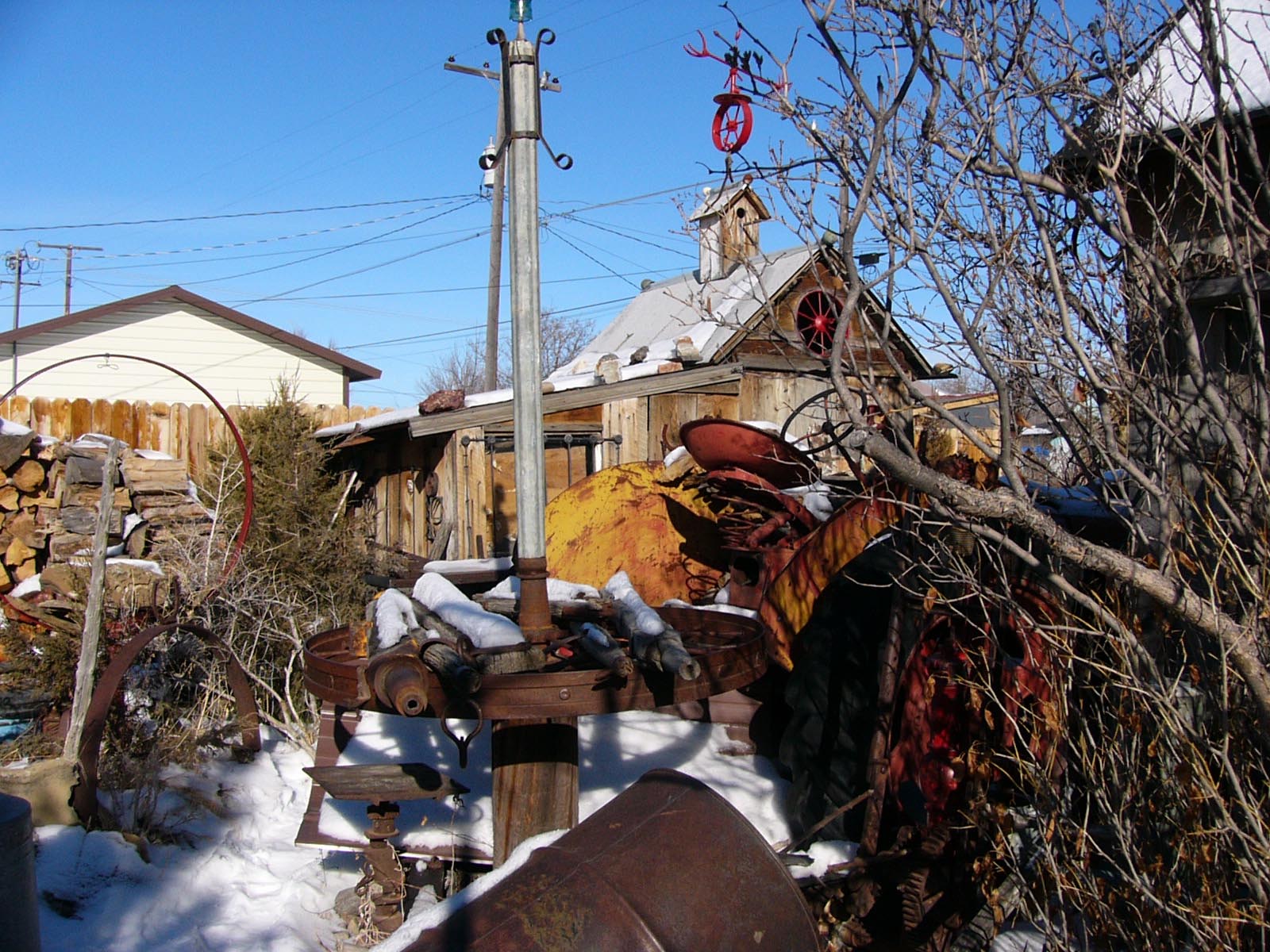 Along the front of the house there is a few tree trunks and rocks, an old wagon that Tim refurbished by making the box to cover the axel and chasie. In the rear of the house there are many sculptures made from wheels, old lamp posts, wagon wheels, rocks, weeds, barrels, and even an old tractor sits among the sculptures.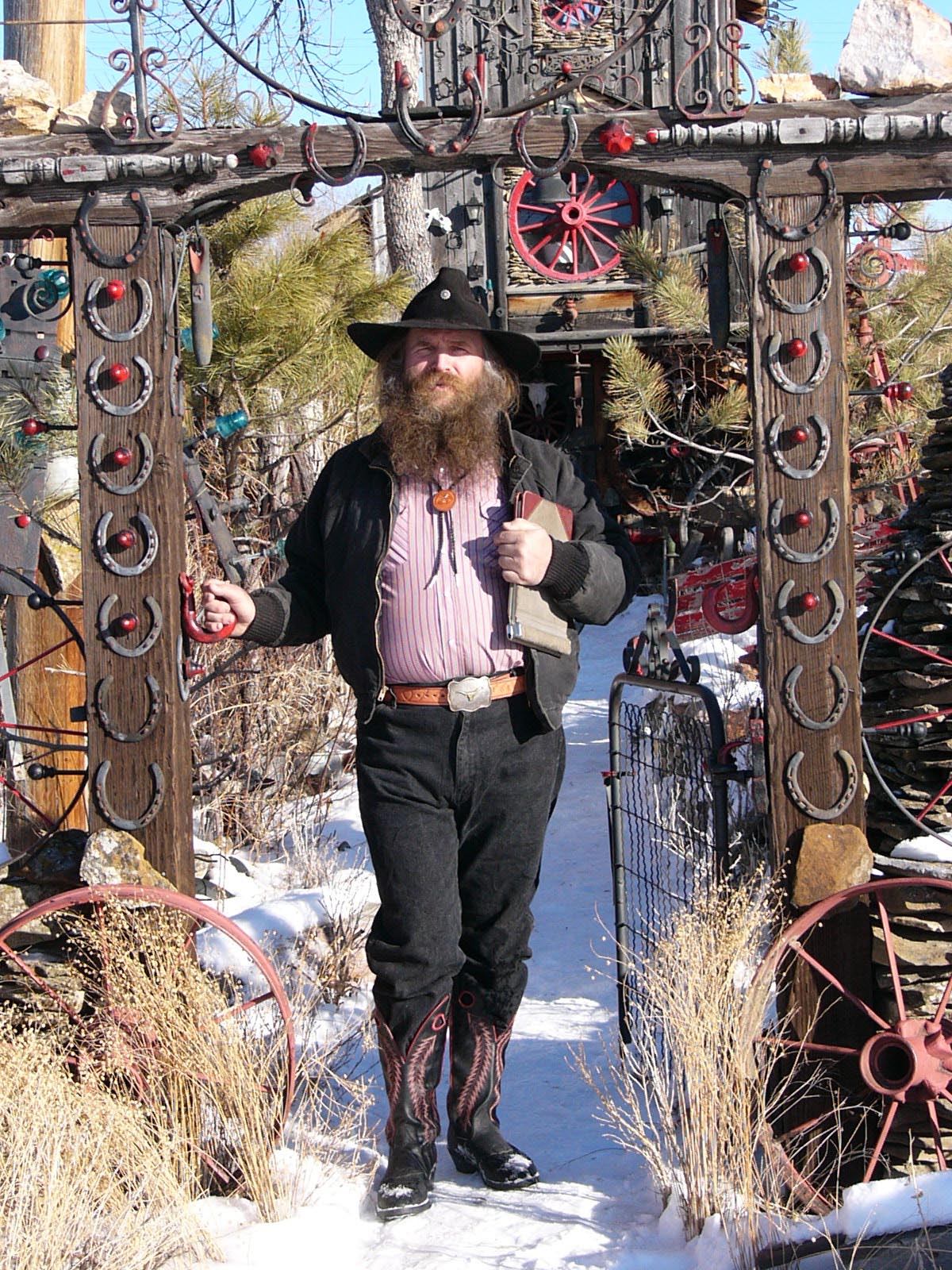 Tim welcomes all those to stop in and look at his Art. You might find Tim at home. Take the time to chat with Tim and don't forget to sign Tim's guest book. Tim is seen here holding his guest book which I signed, and took this picture of Tim standing in his gateway donned with horseshoes and wagon wheels.
Tim dreams of displaying his Artwork in a place where anyone can see it. Tim said his big dream is to find someone he could trust and who believes in his work . Someone who has or is opening a theme park of the old west and would like to have Tim come and build some of his sculptures there for display.
His other dreams are to build a windmill and steam engine way up on top of a cliff near his home where he can view it from his house. He would also like to purchase the land within the view to place steam engines on and have his own theme park.
The view from Tim's house and the cliff he dreams about.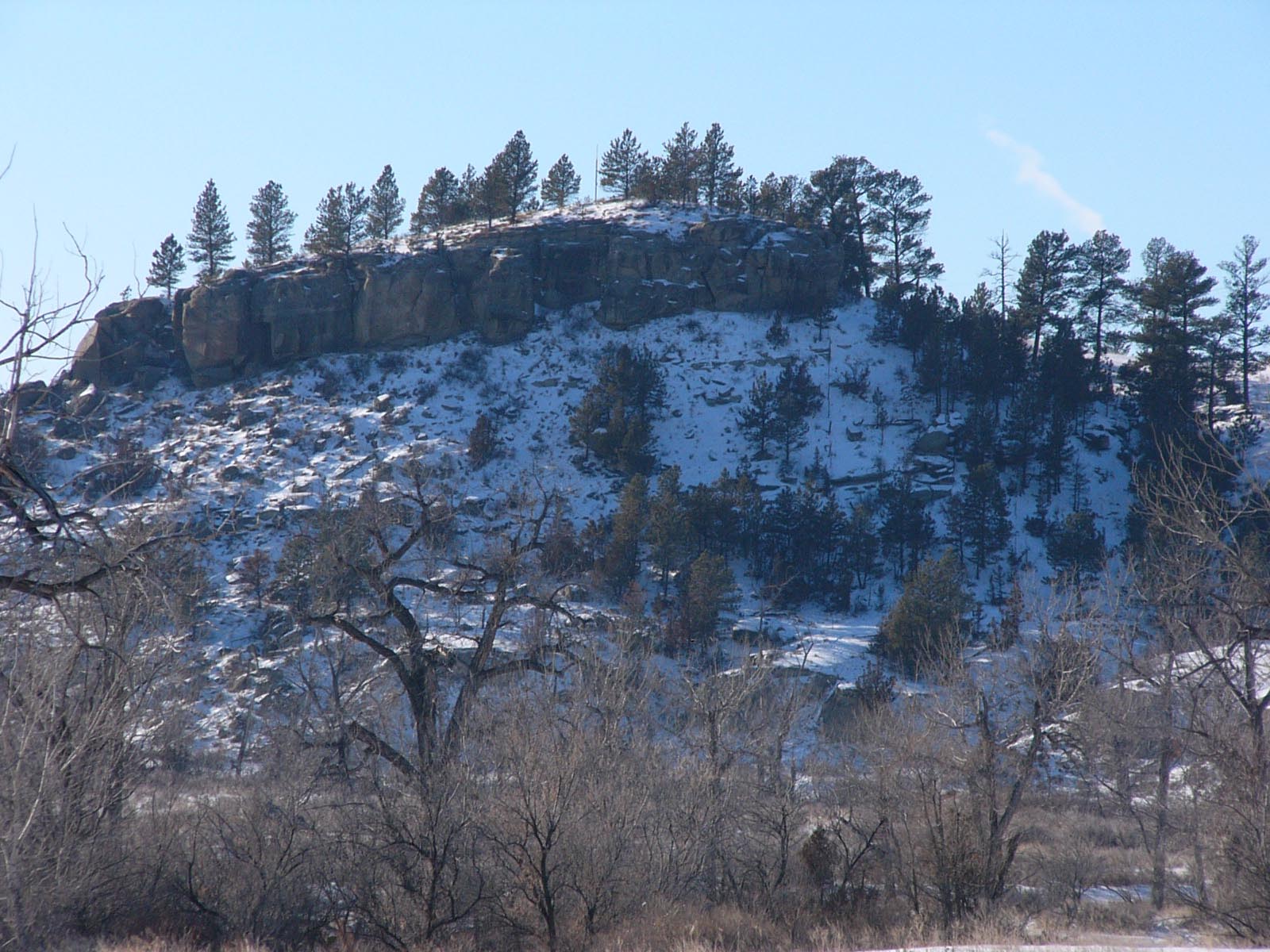 Tim is an ambitious Artist and Sculptor. Another dream is to build a castle out of hard rock and his "junk art" placing it as close to Main Street as possible so that everyone could see it.
Good luck to you Tim. May all your dreams come true.
This webpage is dedicated to Tim Anderson, Sculptor and Artist from Roundup, Montana.
by Debra Stinson of Stinson Computers